Not to be greedy or anything, but it's so fantastic when you find something you've been wanting for a while. And at a semi-affordable price.
I mentioned last week that one of my goals in 2012 is to create a mini home office in our Master Bedroom. Well, I found the perfect little writing desk that would fit in the space and provide the function I need...
It's called the Julia Desk. Ain't Julia purdy? She's from the website Home Decorators Collections, and the cost is normally $399, but it's on sale for $190 (much more affordable). The painted white finish will work well in the room. I like the bamboo-style trim and legs on the desk. The few drawers across the top will hold pens, pencils, paper clips etc. I plan to float some shelves on the wall above it to hold baskets and bins for bulkier items.
And here's the great part ... I found a chair that I want to buy to go with the desk! It's the Sand Parsons Chair from Kirkland's...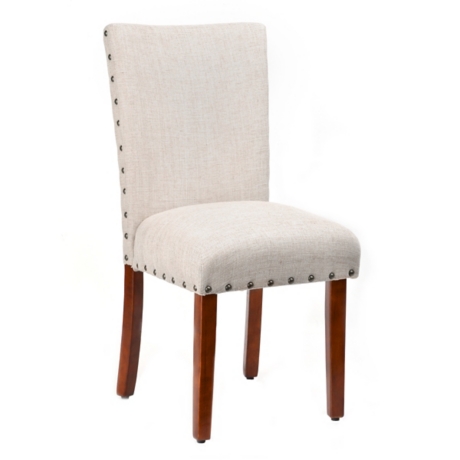 The cost is normally $80, but it's on sale for $60. I like that the chair is upholstered - for comfort - and the color is neutral. So, it'd be versatile for any space in the house. The nail head trim is a nice little detail. The dark wood legs don't necessarily coordinate with all the painted white wood in the room, but I could always paint them white if I decided I didn't like the wood contrast.
What do you think? Like the style? Worth the moolah?
P.S. It would go on this wall of the bedroom ...
The bookcase would go on another wall.
***Thanks to Kirsten Krason @ 6th Street Design School for the sale tips!