Last Tuesday, I made mention
of the fact that one of the closets in our bedroom needed some major help in the organization department, and I was planning to make that a priority this weekend. Well, thankfully, I had a couple hours on Saturday and Sunday to focus on the cleaning out process as well as shopping for a few needed items, and I got about about 3/4 of the way done with this closet makeover. Lord willing, I should be able to finish it off tonight. Hooray.
So, I wanted to give you a little progress update before I can show you the more finished results tomorrow.
As a reminder, here's kind of what the closet looked like beforehand... we had an old, old, old dresser (in which the drawers hardly opened) and 2 bookcases in the closet along with a built-in desk. And all junk that was stacked everywhere was covered in a layer of dust.
I started the cleaning out process by moving everything out of the closet and into the bedroom. This allowed me to dust off everything as I went and see everything we had in order to begin the sorting process. So, the bedroom looked kind of messy at that point...
I decided the 2 bookcases along with our stacks of games and old videos would be shuffled downstairs to the 3rd bedroom (soon-to-be-home office). We also moved the old dresser down to the basement to be used for something else eventually.
Once I had gotten everything out, I vacuumed the room and cleaned the window and baseboards...
... and cleaned out the little built-in desk.
Then I took note of items that needed attention... like this outlet that had been switched out when we moved in, but was never screwed into the wall and covered up.
And this horribly old light fixture that had seen better days. It did have a plastic light cover on it when we first moved in, but it was so awful looking that I took it off right away when we began painting.
I spent a few hours sorting through the stacks of items that were all over the bedroom. Throwing away socks with holes in them and other items we just didn't need and were in too poor condition to donate anywhere. I filled 2 garbage bags.
Lastly, I decided how I wanted the closet laid out in terms of what would go where - and then made a mental list of a few things I needed to purchase for the room:
Mirror
Light Fixture
Window Covering
Small rug
Hooks for the walls
...and that closed out Saturday afternoon.
On Sunday afternoon, I ran some errands and picked out a few of the items listed above. Knowing this was "just a closet" (as a reminded myself over and over), I wanted to spend as little money as possible on the items I needed.
So, I prayed really hard that I would find what I needed as cheaply as possible - and that I would have self-control to put the nice (but more expensive) items back on the shelves and stick to a tight budget.
And thankfully, the Lord answered my prayer, and I was able to find everything I needed at a cheap price and much of it was on sale/clearance. I did a happy dance when I got home. Joey thought I'd lost my marbles.

I shopped at both Lowe's and Menard's and found a few things at each place. Here is a breakdown of the items purchased...

1. Lowe's Style Selections 27"W x 72"L Roman Shade
One of the first items I wanted to purchase for the closet was some type of window covering. We needed a little privacy in there, if you know what I mean. Lowe's has a good selection of window coverings including bamboo blinds and fabric/bamboo roman shades, both of which I like. So, I thought I'd start here. Most of the windows in our old house are odd sized widths, making it difficult to find coverings that fit today's standard sizes. Thankfully, the windows in the closets are a standard 27 inches wide. I walked down the aisle looking at the 27-inch-options and saw the words "Clearance" next to one of their PRIVACY matchstick roman shades! And the color was in Cocoa Brown. It was perfect.

The only picture I could find online has the wrong width, but you get the idea...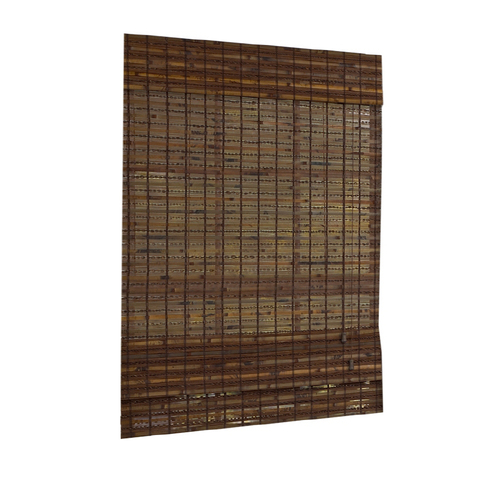 Original Price: $27.96
Clearance Price: $13.98! SOLD!

2. Lowe's Chenille Rib Rug
With the roman shade in my cart, I made my way to the area rug section of Lowe's. We have hardwood floors in the whole house, including the closets. So, I wanted to have a little rug for warmth and comfort under our feet. Nothing fancy, but I did want it to have a little color. Lowe's actually has a fairly large selection of rugs, but I found most to be too expensive. Just as I was ready to give up, I passed this little guy sitting on the bottom shelf and the tag was marked CLEARANCE! I'm not sure what the original price was, but I got for $13.48. The size was 27 inches by 45 inches. I had measured the floor in advance and was thinking a 3 foot by 5 foot would be nice. This was close enough.

Here's a little snapshot to give you an idea of color. It has the exact same brown as the roman shade I purchased above PLUS it has greens and blues - the accent colors I'm using in the bedroom. Perfect!



I didn't even think to check what the original price was, but I found some comparable rugs (same size and look) on Lowe's website and the cost was $88. Crazy!
I also looked at hooks, mirrors, and light fixtures at Lowe's, but found all to be way above my price limits. So, I drove a block to Menard's to get the 3 remaining items...

3. Menard's Hooks
I Love shopping for hardware - hooks, knobs, handles - and it was hard for me to say NO to some of the super pretty items. For example, I could have bought some fancy hooks like this...



... and I would have LOVED them. BUT I would have paid upwards of $10 per hook (and I wanted 10+ hooks)! So, I put the fancy hooks back on the shelf and stuck to the simplest little hooks I could find.

I bought 10 large hooks and 3 small hooks looking like this...




... and they cost me only $0.98 each. That's right - 98 CENTS! So, 13 hooks added up to about 13 dollars. Much better than $10 per hook. All piled on the bed, they looked like this...



4. Menard's Light Fixture
I enjoy shopping for light fixtures almost as much as hardware, and again there were so many pretty options to choose from, but I had to remind myself "this is only a closet" and I ended up purchasing a little flushmount fixture that has a brushed nickled finish like the hooks. Cost was $14.99...



5. Menard's Mirror
I walked down the mirror aisle seeing all kinds of pretty framed mirrors that cost between $20-$120. I didn't even want to spend $20 on the mirror. I walked a little further down the aisle to find non-framed mirrors...all on sale at $15% off! I could not find a picture of the mirror on Menard's website, so you'll have to wait until tomorrow to see the picture of it, but it is a simple beveled edge rectangle mirror. Sale price was $11.45.

That concludes the shopping portion of things. Total came to $66.64 + Tax. But I had $20 spending money from a previous gift. So, out of pocket was actually about $47!

Now you can understand why I did a happy dance!!!

Joey was able to hang the window shade, mirror, light fixture, and hooks for me right before we went to bed. So, tonight, I should be able to get everything in it's place and hopefully have some finished pictures for you tomorrow!

Happy Organizing!