Hint, Hint...read our profile on the right side of the page...
Did you see it?
Today
.
.
.
is
.
.
.
our
.
.
.
1 year HOMESTEAD-iversary!!!
Holy cabooses!
Yes, one year ago today, Joey and I became proud first-time homeowners of our little bungalow in Kenosha, WI. I actually just realized this as I was sitting at my office desk this morning. That's how fast one year went by!
Home ownership has given us much joy and also taken much of our time/energy/money. But it's so worth it! While our to-do list is never ending, it's always good to take time and look back to see just how far we've come in 1 year. So, I plucked a few photos from past blog posts to give you a little comparison of "Then" and "Now".
This was the outside of the house in February 2010 when we toured it for the first time...
The outside has changed only because we've spend so much time ripping things out (like those big bushes), but not much time (yet) putting things in. That should change this summer.
The porch in the back of the house was one of the first projects we worked on...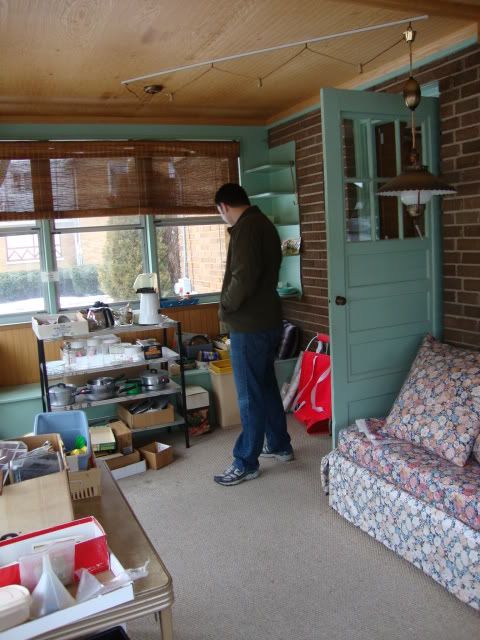 I still appreciate the transformation every time I walk through the porch and into the kitchen. It still needs to be decorated though...
The Master Bedroom upstairs also got painted pretty quickly in preparation for moving day, but has slowly evolved over time...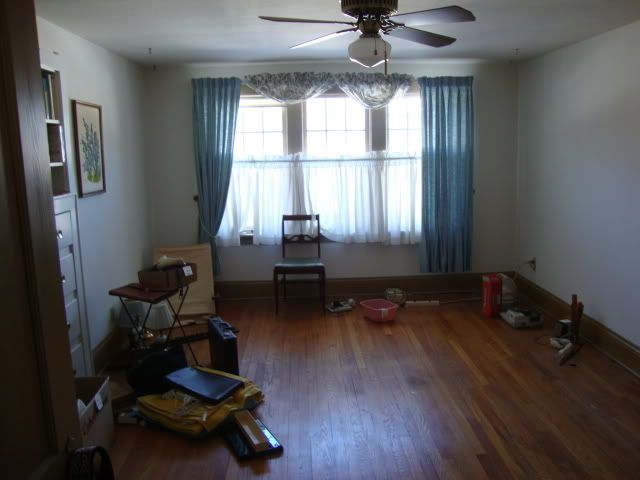 ...into what it is today. It is our sanctuary at the end of the day.
The Living Room was one of the most awful rooms in the house with 30 year old brown shag carpet throughout...
...but it is now one of the most completed rooms with refinished hardwood floors and fresh paint on the walls. We still need to complete the rest of the fireplace transformation, add curtains to the windows, and fill in a few decorations. This picture was taken in February right after we got the new sectional sofa (you can see that tags are still on it).
The first floor powder room was probably my second least favorite room in the house. The gray, plastic tiles had to go...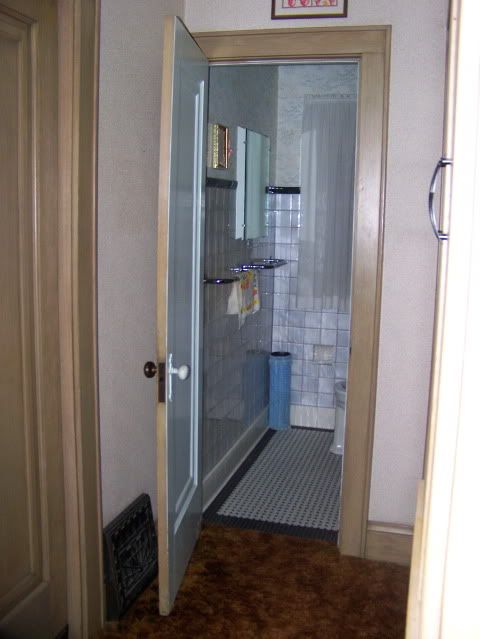 Even though we kept the gray and white color scheme, the space is a bit more up-to-date with a tiled floor and beadboard walls. (still missing some decor and curtains)
After loading these photos today, I realized 2 things:
First
, all of my "Before" pictures are HORRIBLE. At the time they were taken, I was just snapping the pictures hurriedly as we toured through the house in order that Joey and I could review them at our apartment while we were considering buying the house. I now wish I had taken additional (better) pictures after the purchase, but we moved so quickly into demolition mode that I completely forgot about it.
Word of advice to new home-buyers: Take a lot of good photos before you start changin' things up!
Second
, I definitely need to get some up-to-date pictures of full rooms in the house. I have many pictures showing little details in rooms - one wall here and one wall there - but not many showing the full scale of the rooms. In fact, the last picture taken of the kitchen was in NOVEMBER 2010, and it wasn't even a full shot of the kitchen. Not good. So, that's been added to my to-do list in the next week or so.
All-in-all, I'm so thankful for how the Lord has provided for us this past year - even more than I could have dreamed. We've already built so many memories in this first year at the homestead, and I hope there will be many more to come!
Thanks to all our readers for riding along on this journey with us!